As we come up to 2011, I'm spending this time reviewing the year, and refining and planning ahead for the next decade.
One of the highlights was meeting up with Donald Trump at Trump Tower in New York. It's a great example of www.TheSuccessSpiral.com and I hope you enjoy this true story.
I was in New York for the #140 Conference, where I was helping my friend/client Lynn Rose launch a new project (http://www.everybodytweet.com/) , and had originally planned just a short trip.
I mentioned it to a few of my network, and they asked if I could extend my trip, so a 3 day trip became 7, and then out of the blue, I got an email from a good friend Bill Walsh (Who'd I met about six months earlier via the launch of Alex Mandossian's London events – on the back of a client attending a workshop and connecting us), which in short said, "Can you stay in New York for a few more days?" and "Do you want to meet Donald Trump?" Well of course the answer was yes, after years of hearing about the man who has singlehandedly shaped a lot of industries and also the American (and Global) view point of business/entrepreneuralism, meeting him properly face to face was something on the list.
I've known and been mentored by friends and contacts who had trained with, working with and collaborated with Donald Trump, and also worked with and for him, and I had a good sense of the man, and anticipation.
The spiral nature being that the meeting only happened through what looks like random events, but was it inevitable that we'd meet at some point? I would think so given the larger initiatives I'm working on and inside of, and the mutual contacts, but it's a large world some days and a small world on others.
The fact that I was able to extend my trip without really thinking about it, and be flexible enough to take advantage of both this opportunity and the others that came out of the trip, stemmed from the approach I'd spent over a year building and a benefit from building web based and systemised businesses that don't rely on an hourly "J.O.B" approach.
The other point that stood out for me was that Donald Trump was as you can expect being approached by lots of people for photographs as part of the ubiquitous photo calls that I can imagine follow every "celebrity" who has been on American or International Mainstream T.V.
I had my trusty Canon 5D Mark II (see www.WorldsBestCamera.com) as I was enjoying my trip and my passion for photography in the summer sunshine. (The iPhone 4 or Kodak Zi8 are my usual walk arounds – The Best Camera as my photographer friends remind me is "The One You have With You" ).
My biggest memory from the day was Mr Trump wanting me to take the shots and run things "Get Him To Do it, He's The Professional".
The nature of the man was someone that's confident and certain in what he wants and how he's getting there. And a great reminder that the first step is always Certainty
This was one of the points that stands out in 2010, and I look forward to sharing other highlights and moments with you later.
Consider what you are thankful for in 2010, and the events that came good from your trusting your instincts, and going for what you really wanted.
Have A Great 2011 and a Happy New You!
Simon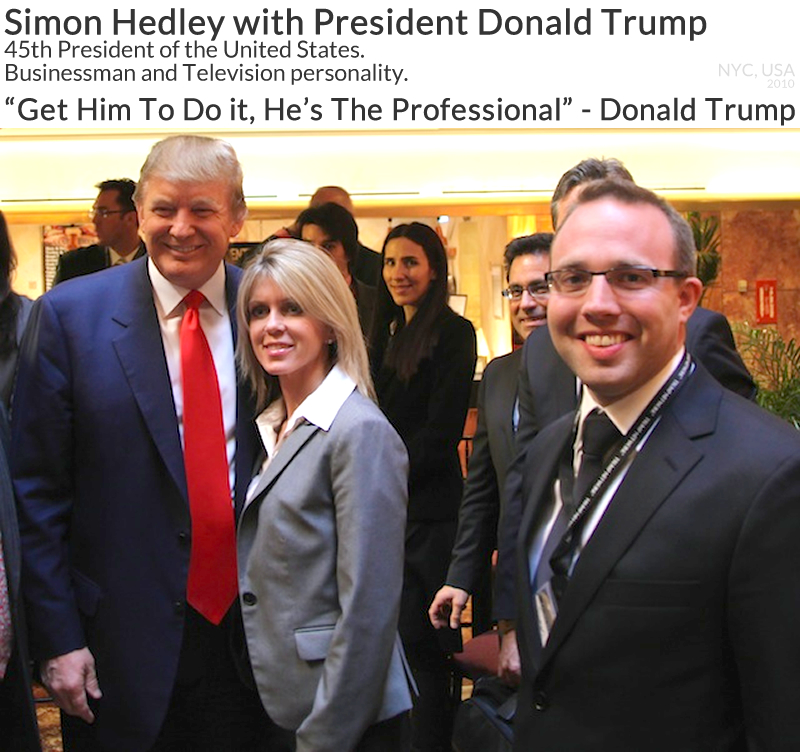 ===
Update – it's now 2017, and Donald Trump has become the 45th President of the United States.
https://simonhedley.com/wp-content/uploads/simon_donaldtrump_may2010.jpg
499
640
Simon Hedley
https://simonhedley.com/wp-content/uploads/SimonHedley_StrategicAlchemist_blackgold.png
Simon Hedley
2010-12-31 22:18:32
2017-03-27 11:00:28
Donald Trump at Trump Tower New York